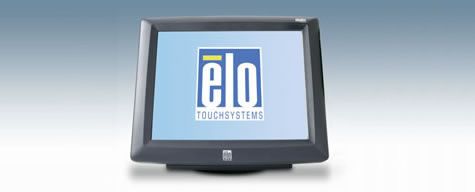 1229L 12" Touchscreen Monitor (Discontinued August 2007)
Overview
The 1229L multifunction touchmonitor may be ordered with up to three integrated peripherals, including an ergonomically-placed magnetic stripe reader (MSR), biometric fingerprint recognition device, and a rear-facing customer display. All are incorporated into the monitor housing and designed to flow with its elegant styling. Available with a choice of touch technologies, the 1229L is fully configurable for a variety of applications in the retail, hospitality, medical, gaming, and amusement markets where its compact design efficiently saves valuable work space as well as minimizing connections.
Other features.
Higher brightness, better contrast, and wider viewing angle than most 12" LCDs
"Designed for touch" features such as a stable tilt base
Available with AccuTouch® Five-Wire Resistive Technology (activated with fingernails, gloves, credit cards, or any stylus) or, for the ultimate in optics, IntelliTouch® Surface-Wave Technology, Surface Capacitive Technology or CarrollTouch Infrared Technology
Optional ergonomic 3 stripe MSR available in three versions: USB with keyboard emulation; USB with human interface device (HID) class specification 1.1; and serial, which supports OPOS. OPOS is only supported in serial version
Optional rear-facing customer display
Optional biometric fingerprint recognition device
Integrated USB hub with two available USB connections. Also allows a single USB cable to carry the touch signal, MSR and fingerprint data, and output to the customer display. The serial version has cables/external connectors to carry the touch and MSR data.
Single power supply for all optional devices
Cables hidden from user's view
Built-in speakers located in display head
Multilingual on-screen display (OSD) with extras including speaker volume, treble, bass, and balance
Mounting holes on base bottom for tabletop security
Base removable, VESA mounting option
Controls on the side rather than the front, plus lockout function for public use
Sealed touchscreen; CarrollTouch version features a seamless watertight seal due to its unique co-molded construction
Diagnostic LEDs for touch and video
Long-lasting product cycle
Worldwide agency approvals
Presupuesto
Técnico

---

AccuTouch (Serial, Antiglare, Worldwide) - 839902-000

Tecnología y capacidad táctil

Resistiva de 5 hilos (AccuTouch®) - Táctil simple

12.1'' diagonal, matriz activa TFT LCD (LED)

9.69" x 7.27" / 246 mm x 184.5 mm

Otras resoluciones disponibles

800 x 600 at 56, 60, 72 or 75 Hz
720 x 400 at 70 Hz
640 x 480 at 60, 66 Hz (Mac), 72 or 75 Hz

Horizontal: ±65° or 130° total / Vertical: 50°/45° or 95° total

16.2 million with dithering (6 bit)

LCD panel: 350 nits
AccuTouch: 287 nits

Tiempo total de respuesta (tipico)

Pantalla en pantalla (OSD)

OSD lockouts for power and user controls

OSD control menu: menu, up, down, select, power
OSD controls: contrast, brightness, V-position, H-position, recall defaults RGB, volume, YUV, phase, clock, OSD H-position, OSD V-position, OSD time, auto adjust, resolution
OSD languages: English, French, German, Spanish, Japanese
OSD disable/enable: power, OSD menu

Two watt/channel speakers located in display head

Formato de entrada de video

Entrada del conector para video señal

Mini D-Sub 15-Pin VGA type

Consumo de energía (típico)

Monitor: 20 W typical, 25 W max.
VFD customer display: 3 W typical, 6 W max.
USB fingerprint reader: 0.5 W typical, 1 W max.
USB magnetic stripe reader: 0.5 W typical, 1 W max.
2 USB external ports power when loaded: 5 W typical, 7 W max.
Total with all possible accessories: 29 W typical, 40 W max.

External brick
Output voltage/current: 12 VDC at 4.0 amps max.

Horizontal: 31.5-48 kHz / Vertical: 56.3-75 Hz

Dimensiones del monitor (con soporte)

13.9" x 11.6" x 11.8" / 353mm x 295mm x 300mm

Temperatura de almacenamiento

Operating: 20-80%
Storage: 5-95%
noncondensing

Touchscreen sealed to bezel
Touchscreen sealed to LCD

MTBF - Tiempo medido entre fallos (medida de confiabilidad de un dispositivo o sistema)

75 mm VESA mount
Removable base
Optional stability plate

Energy save mode (less than 2 watts)
2 stage DPMS
VESA DDC Plug and Play
Security lock receptacle

Vida de la lámpara de contraluz

Min 50,000 hours to half brightness

Aprobaciones y declaraciones reglamentarias

UL, cUL, FCC, TÜV-GS, CE, VCCI, C-Tick

A North American power cable and a European power cable are included.

For touchmonitors being shipped to the United Kingdom, add a UK power cable at no cost by specifying - Elo p/n: 276875-000.

Caja de fuente de energía opcional

Elo p/n: E137360, available at additional cost.

Pluma Stylus IntelliTouch Opcional

D82064-000, available at additional cost.

All appropriate cables are included and are detachable. Serial versions include an RJ45 to DB9 serial conversion cable.

Mounts to the pedestal of the monitor to increase stability. Elo p/n: C41696-000, available at additional cost.
---