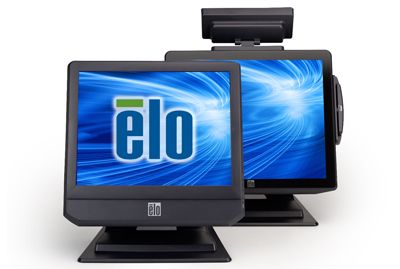 B1 Rev.A Touchcomputer (Discontinued June 2013)
Overview
The Elo B-Series Rev.A All-in-One touchcomputer platform simply provides in a compact design, more flexibility with a choice of configuration and connectivity options, more serviceability with easy access to key components, and more processing power. In addition, a wide array field-installable peripherals, spill-resistant sealing, and a selection of input/output port connection options make the B-Series Rev.A both versatile and powerful. It is designed with the future in mind, allowing easy field serviceability of all of the main components.
The B-Series Rev.A is engineered for flexibility, with multiple memory and storage configurations, as well as scalable computing power featuring three high-performance processor configurations: Cool and Quiet B2 Fan-less Intel Atom Dual-Core 1.66 GHz, Performance B1 Fan-cooled Intel Celeron Dual-Core 2.2GHz or Performance Ultra B3 Fan-cooled Intel Core 2 Duo 3.0 GHz.
The flexibility, serviceability and performance of the B-Series Rev.A are rare in commercial All-in-One touchcomputers. In a stylish, compact design, the B-Series Rev.A provides three highly configurable, ruggedized touchcomputers, in two screen sizes – 15-inch and 17-inch, plus the choice of three industry-leading Elo touch technologies. The B-Series Rev.A touchcomputer family has been developed to meet the diverse needs of a wide variety of point-of-sale (POS), point-of-information (POI), and point-of-service venues, including retail and hospitality display units, customer loyalty systems, internet access sites, digital signage as well as bedside entertainment, home automation and control.
Other features
Choice of high-performance processor configurations - Facilitates a wide range of business and computing options
Full range of standard connectivity ports plus expansion ports to add functionality - One system can be tailored to meet virtually any application or business requirement
Second hard drive option for expanded storage or RAID configuration - Enables extra storage capacity or disk mirroring (RAID) for data protection
Customer-installable peripheral, memory and storage options - Easily upgrade as business needs grow; down-time is minimized with easy-to-install system upgrade options for complete compatibility in a harmonious design
Supports industry standard low profile PCI-E (PCI Express) expansion cards - Outstanding configurability/customization options to meet all your connectivity needs
"Designed for touch" from the ground-up; stable stand and tiltable display with VESA mount for table-top, wall or pole mounting options - Stability to withstand the rigors of use in a public environment; mounting options to complement store layout and customer traffic
3 year warranty plus Elo quality and reliability - Satisfaction and peace of mind from nearly 40 years of experience built into all products
Presupuesto
Técnico

---

15-inch AccuTouch (Antiglare, Worldwide) - E029803
17-inch AccuTouch (Antiglare, Worldwide) - E958917
15-inch AccuTouch (Antiglare, Worldwide) - E708010
17-inch AccuTouch (Antiglare, Worldwide) - E583520
15-inch AccuTouch (Antiglare, Worldwide) - E981814
17-inch AccuTouch (Antiglare, Worldwide) - E064148
15-inch AccuTouch (Antiglare, Worldwide) - E368362
17-inch AccuTouch (Antiglare, Worldwide) - E471288
15-inch AccuTouch (Antiglare, Worldwide) - E623769
17-inch AccuTouch (Antiglare, Worldwide) - E990125
15-inch AccuTouch (Antiglare, Worldwide) - E855877
17-inch AccuTouch (Antiglare, Worldwide) - E849636
15-inch IntelliTouch (Antiglare, Worldwide) - E920670
17-inch IntelliTouch (Antiglare, Worldwide) - E300184
15-inch IntelliTouch (Antiglare, Worldwide) - E833576
17-inch IntelliTouch (Antiglare, Worldwide) - E724568
15-inch IntelliTouch (Antiglare, Worldwide) - E727138
17-inch IntelliTouch (Antiglare, Worldwide) - E382821
15-inch IntelliTouch (Antiglare, Worldwide) - E169698
17-inch IntelliTouch (Antiglare, Worldwide) - E340499
15-inch IntelliTouch (Antiglare, Worldwide) - E944374
17-inch IntelliTouch (Antiglare, Worldwide) - E445066
15-inch IntelliTouch (Antiglare, Worldwide) - E003227
17-inch IntelliTouch (Antiglare, Worldwide) - E074781
15-inch Acoustic Pulse Recognition (Antiglare, Worldwide) - E813311
17-inch Acoustic Pulse Recognition (Antiglare, Worldwide) - E814870
15-inch Acoustic Pulse Recognition (Antiglare, Worldwide) - E352633
17-inch Acoustic Pulse Recognition (Antiglare, Worldwide) -
E386667
15-inch Acoustic Pulse Recognition (Antiglare, Worldwide) - E848784
17-inch Acoustic Pulse Recognition (Antiglare, Worldwide) - E239346
15-inch Acoustic Pulse Recognition (Antiglare, Worldwide) - E065399
17-inch Acoustic Pulse Recognition (Antiglare, Worldwide) - E554901
15-inch Acoustic Pulse Recognition (Antiglare, Worldwide) - E826828
17-inch Acoustic Pulse Recognition (Antiglare, Worldwide) - E922233
15-inch Acoustic Pulse Recognition (Antiglare, Worldwide) - E765212
17-inch Acoustic Pulse Recognition (Antiglare, Worldwide) -
E017356


Tecnología y capacidad táctil

Resistiva de 5 hilos (AccuTouch®) - Táctil simple
SAW (IntelliTouch® de ondas acústicas de superficie) - Táctil simple
Reconocimiento Acústico de Pulso - Solo Toque

Intel 1.66GHz Atom Dual-Core D510
1MB L2 Cache
533MHz System Bus

1GB Low-Profile DDR2 DIMM
on 1 of 2 slots
(Expandable to 4GB maximum on 2 slots)

15'' diagonal, matriz activa TFT LCD (LED)

Controls (bottom): menu, up, down, select, power
Settings: brightness, contrast, phase, auto adjust, H-position, V-position, clock, sharpness, RGB, OSD H-position, OSD V-position, OSD time, OSD language, recall, power button
Languages: English, French, Italian, German, Spanish, Japanese, Traditional Chinese, Simplified Chinese
Lockouts: user controls

12.0" x 9.0" / 304.1mm x 228.1mm

LCD panel: 250 nits
AccuTouch: 200 nits
Acoustic Pulse Recognition: 225 nits
IntelliTouch: 225 nits

Tiempo total de respuesta (tipico)

Horizontal: ±70° o 140° total / Vertical: 65°/60° o 125° total

6 x USB 2.0 (4 on I/O, 1 x USB Side Access, 1 x USB Hidden/Protected)
Additional internal ports available for optional Elo peripherals

2 x USB-to-Serial RS-232 (standard)

Optional USB wireless kit available (802.11b/g/n)

Puerto para cajón/caja de dinero

Optional cash drawer kit available (12V/24V default; selectable via jumper)

Salida de video adicional

Optional 2nd VGA port expansion card

1 x 3.5mm line-in
1 x 3.5mm line-out
1 x 3.5mm mic-in

Sin sistema operativo
Windows XP Professional Service Pack 3 (32-bit only)
Windows POSReady 2009
Windows 7 Professional (32-bit only)

Windows XP - 24 Grupos de idiomas; Windows 7 - 35 Grupos de idiomas
Windows POSReady 2009 – 32 Language groups

External 12VDC universal-type power supply brick
AC input voltage: 100-240VAC
Input frequency: 50-60Hz
Maximum output power: 150W (Max draw: 170W)

Consumo de energía (típico)

Dimensiones de la computadora táctil Max incluyendo el stand

14.0" x 14.3" x 10.5" / 354mm x 363mm x 267mm

Dimensiones de la computadora táctil Max sin el stand

14.0" x 14.3" x 14.1" / 355mm x 364mm x 359mm

Dimensiones de la caja de envio

17.4" x 21.9" x 10.2" / 443mm x 555mm x 258mm

32°F to 95°F / 0°C to 35°C

Temperatura de almacenamiento

-4°F to 140°F / -20°C to 60°C

Operating: 20% to 80%
Storage: 5% to 95%

Aprobaciones y declaraciones reglamentarias

UL/cUL, CE, CCC, NOM, AR S-Mark, FCC, GOST-R, C-Tick, TUV, VCCI

Batería de iones de litio

MTBF - Tiempo medido entre fallos (medida de confiabilidad de un dispositivo o sistema)

100mm VESA mount or secure base to tabletop or desktop

Touchscreen sealed to bezel (IntelliTouch)
Touchscreen sealed to sub-bezel (AccuTouch, APR)
Touchscreen sealed to LCD (all)

North American and European power cables included

Serviceable internal components
Removable base with 100mm VESA mountingM
Threaded holes on bottom of base for mounting

Wireless Adapter (USB, 802.11b/g/n)
Cash Drawer Port (12V/24V) expansion card
Second VGA Port expansion card
Modem PCI-E Card
Parallel Port PCI-E Card

Fuente de alimentación de reemplazo de CC

12V DC power brick, part number E806884, is available at additional cost.

Pluma Stylus IntelliTouch Opcional

D82064-000, available at additional cost.

Optional Acoustic Pulse Recognition (APR) Stylus Pen

E963860, available at additional cost

Optional Accessories/Peripherals

Second 160GB Hard Disk Drive (HDD)
64GB Solid State Drive (SSD)
Second HDD/SSD Mounting Bracket Kit only
1GB Low-Profile DDR2 Memory DIMM Kit
2GB Low-Profile DDR2 Memory DIMM Kit
4GB Low-Profile DDR2 Memory DIMM Kit
Magnetic Stripe Reader- Elo P/N: E545781
Customer Display (2x20 VFD) - Elo P/N: E879762
Biometric Fingerprint Reader (FPR) - Elo P/N: E375206

Magnetic Stripe Reader (MSR)

The MSR is a USB 2.0 device that reads all three data stripes on standard credit cards or driver's licenses conforming to ISO/ANSI standards. The MSR has foreign language capability. The MSR is powered from the USB port; no external power is needed. The MSR features are:
- Reads up to 3 tracks of information
- Bidirectional swipe reading
- Superior reading of high jitter, scratched, and worn

MagStripe cards
- Reliable for over 1,000,000 card swipes
- Reads ISO7811, AAMVA, and most other card data formats
- PC software makes configuration changes easy
- Swipe speeds from 3 to 60 inches per second
- Interfaces: USB-IDTech-HID
- Fully supports USB 2.0

---